While researching the Leopoldville disaster, author/historian Allan Andrade in early May 1995  met with Waterbury, Connecticut Leopoldville Survivor Vincent Codianni. The two men became friends and with the help of several others formed the Leopoldville Memorial Association. The New York Times in their article on May 8, 1995 referred to their efforts to promote public awareness of the almost unknown catastrophe as a "Fight To Honor War's Forgotten Men". This page will highlight those efforts to ensure that the soldiers killed that night and their families finally received the honor and recognition they had so long been denied.
New York City  Congressman Gary L. Ackerman  Leopoldville tribute before House of Representatives  on March 20, 1996 
Waterbury, Connecticut 1996 Leopoldville Disaster Memorial Day Ceremony 
(Left to Right) Leopoldville survivors Vincent Codianni and George Chun Fat, Donna Hesse, widow of Leopoldville survivor Robert Hesse, Allan Andrade, and Colonel John G. Chirella, retired.
Waterbury , Connecticut was the first city in the country to dedicate its Memorial Day ceremony to honoring the soldiers who died in the sinking of the Leopoldville troopship.
New York County American Legion Memorial Day ceremony  held at Soldiers and Sailors Monument, upper west side of Manhattan  on May 27, 1996 dedicated to remembering the Leopoldville disaster.
Colonel John Chiarella (retired) and Allan Andrade salute as Grand Lodge of Masons in the State of New York bugler Ray Alvarez plays "Taps".
New York County American Legion Memorial Day ceremony 5/27/1996. Honor guard provided by British sailors from the aircraft carrier, HMS. Cumberland.
New York City Leopoldville Remembrance Day Proclamation and ceremony held in the New York City Council Chamber 7/11/1996
Leopoldville survivor Vincent Codianni holds the Proclamation. NYC Councilman Andrew S. Eristoff who sponsored the proclamation is on the extreme right.
Brooklyn, NYC Leopoldville Remembrance Day Proclamation 10/10/1996 
Brooklyn Borough President Howard Golden (center) presenting Leopoldville Proclamation honoring those killed from Brooklyn to Colonel John Chiarella (retired) and survivor Vincent Codianni (second from right)
December 1996 Proclamation ceremony honoring the 6 soldiers from Queens County, New York City, killed in the Leopoldville disaster. (Left to Right) Survivor Fred Brent, Allan Andrade, Charles Vogel (his brother, Frank Vogel, was killed), Queens Borough President Claire Shulman, American Legion Leader Reggie Allen, and Jerry Catalano (his brother, Angelo Catalano, was killed.)
Leopoldville Disaster exhibit at the New York Vietnam Veterans Memorial located inside the New York State Justice Building in Albany, New York.  December 23, 1996 – January 24, 1997.
American Legion leader Vito H. Meliti looks at a model of the then proposed Ft. Benning, Georgia Leopoldville disaster monument. The model was constructed by students of Kennedy High School located in Waterbury, Connecticut.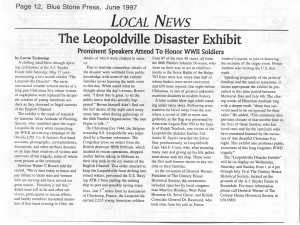 Century House Historical Society  ceremony and Leopoldville exhibit at A.J. Snyder Estate, Rosendale, New York  5/17/1997 Reported by Blue Stone Press newspaper
Leopoldville Disaster Monument, Ft. Benning, Georgia Dedicated November 7, 1997.  Reported by Ledger-Enquirer newpaper, Columbus, Georgia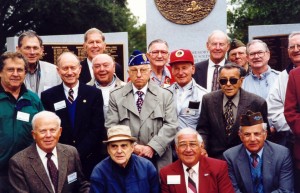 Vincent Codianni wearing veterans cap with group of survivors in front of Ft. Benning Leopoldville Disaster Monument 11/7/1997
United States Senator Byron Dorgan (ND.) Leopoldville tribute before the U.S. Senate October  18, 1999
On October 16, 2004, two benches were dedicated in front of the Fort Benning, Georgia, Leopoldville Disaster Monument where visitors can now sit and quietly reflect on the names engraved on the stones.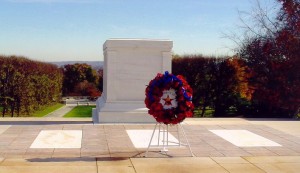 Bipartisan White House Commission on Remembrance  60th anniversary Leopoldville remembrance ceremony held at the Tomb of the Unknowns, Arlington National Cemetery, Arlington, Virginia on 11/15/2004. 
U.S. Senator Byron Dorgan (ND.) escorts Lucy Ruggles, widow of Pfc. Harold J. Decell, down rotunda steps to place Leopoldville remembrance wreath in front of the Tomb of the Unknowns.
"Taps" played after Leopoldville floral wreath was placed in front of the Tomb of the Unknowns. Director Carmella LaSpada, White House Commission on Remembrance, Leopoldville survivor Antonio Martinez; and military escort.  Behind them, U.S. Senator Byron Dorgan (ND.) and Lucy Ruggles.